Lux Level Financial Planning
AQuest is fortunate to have an experienced staff that is far younger than the average for our industry. We eagerly embrace new technologies such as cloud-based systems that completely eliminate the need for paper, make information available from any place with an internet connection, and allow us to schedule virtual meetings with clients.
Providing our clients with the best cutting edge financial planning technology like Money Guide Elite along with an in-house tax team, allows us to offer lux-level financial strategies for the mainstream investor.
Financial planning is about more than assets, investments and net worth. It's about what you want to do with your money and why. It's about identifying your concerns, expectations and goals – it's about how you feel and what you want.
Money Guide Elite helps address common fears and concerns such as health care costs, outliving your money and the best time to file for Social Security benefits. The confidence meter helps you gauge how likely you are to reach your goals and whether you are on track instead of focusing on headlines.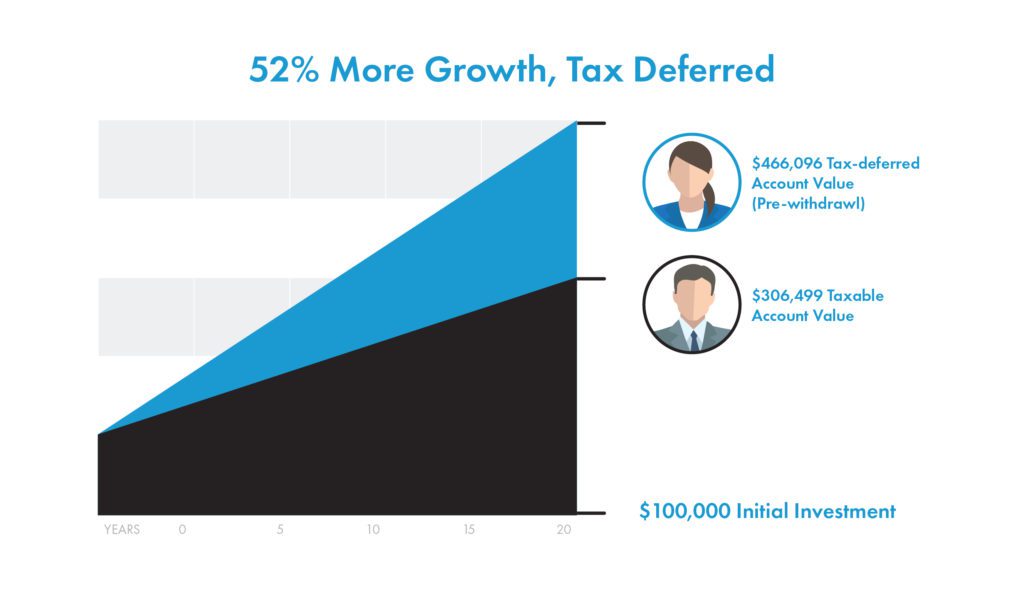 The goal of the AQuest team is the cohesive management of every aspect of your financial situation. By taking a holistic approach to managing your total financial situation, AQuest is able to help you pursue all your financial goals and not just address one area of your complex financial life.
The main asset that sets AQuest apart from most financial planners is our in-house CPA, Jonathan Bailey. For years, Jonathan has been providing quality, personalized financial guidance to local individuals and businesses. Our expertise ranges from basic tax management and accounting services to more in-depth services such as proactive tax planning and consulting.
AQuest Tax is one of the leading firms in and throughout the area. By combining our expertise, experience and the team mentality of our staff, we assure that every client receives the close analysis and attention they deserve. Our dedication to high standards, and work ethic is the reason our client base returns year after year.
With the benefit of Jonathan's knowledge and years of experience we are able to develop investment strategies that take advantage of low tax brackets, and current tax incentives and make that income stream tax-free or exceedingly tax efficient.
Size Matters
At AQuest Wealth Strategies we are independent financial advisors with LPL Financial, for the last consecutive 21 years. LPL is the nation's leading independent broker-dealer, they offer an integrated platform of proprietary technology, brokerage, and investment advisor services to more than 16,000 financial professionals and approximately 700 financial institutions. LPL supports more than 4,000 other financial professionals with customized clearing solutions, advisory platforms, and technology.
Out of the 16,000 financial professionals associated with LPL, AQuest Wealth Strategies is the 232nd largest firm of Registered Investment Advisors.
Independence
As Registered Independent Advisors, the AQuest team isn't under pressure to push certain products or to fulfill any sales quotas, allowing us to provide our clients professional and objective advice. Further, AQuest does not offer any proprietary securities or insurance.
We are not brokers! Aquest has a fiduciary responsible to always be working in your best interest.
Brokers are salesman who make a commission by selling proprietary products and since they are not fiduciaries, they are under no legal responsibility to provide services that are necessarily best for you.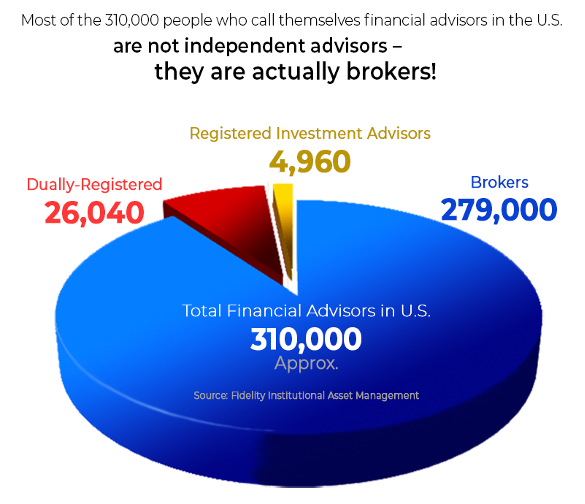 What's the difference between a Registered Investment Advisor (RIA) and a Broker?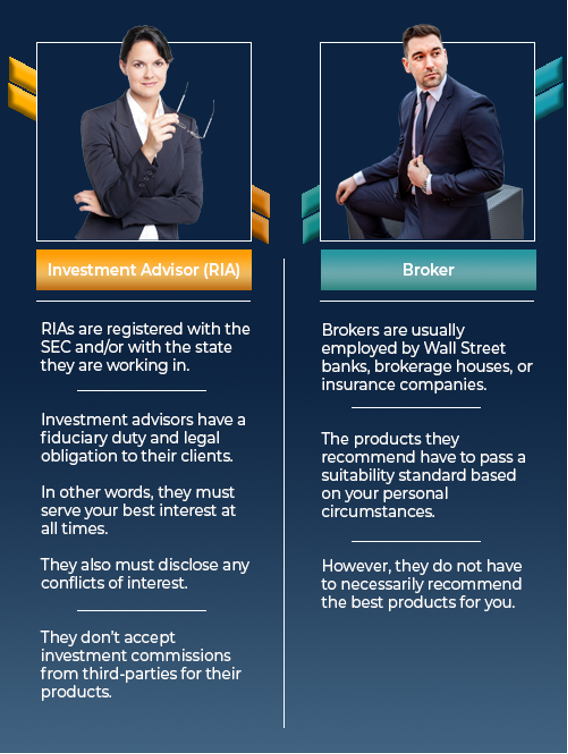 Unparalleled Customer Service
AQuest offers a total wealth management approach, which requires a high level of client contact. In addition to investments, many AQuest clients fulfill multiple financial needs with products offered by other members of the team through LPL Financial. With this wide breadth of products available, we are able to have fewer clients per advisor, therefore affording them more time to spend helping each client work toward their financial goals. We think this service model also allows us to be better able to anticipate the unique needs of our clients, which can potentially help them avoid roadblocks to their success.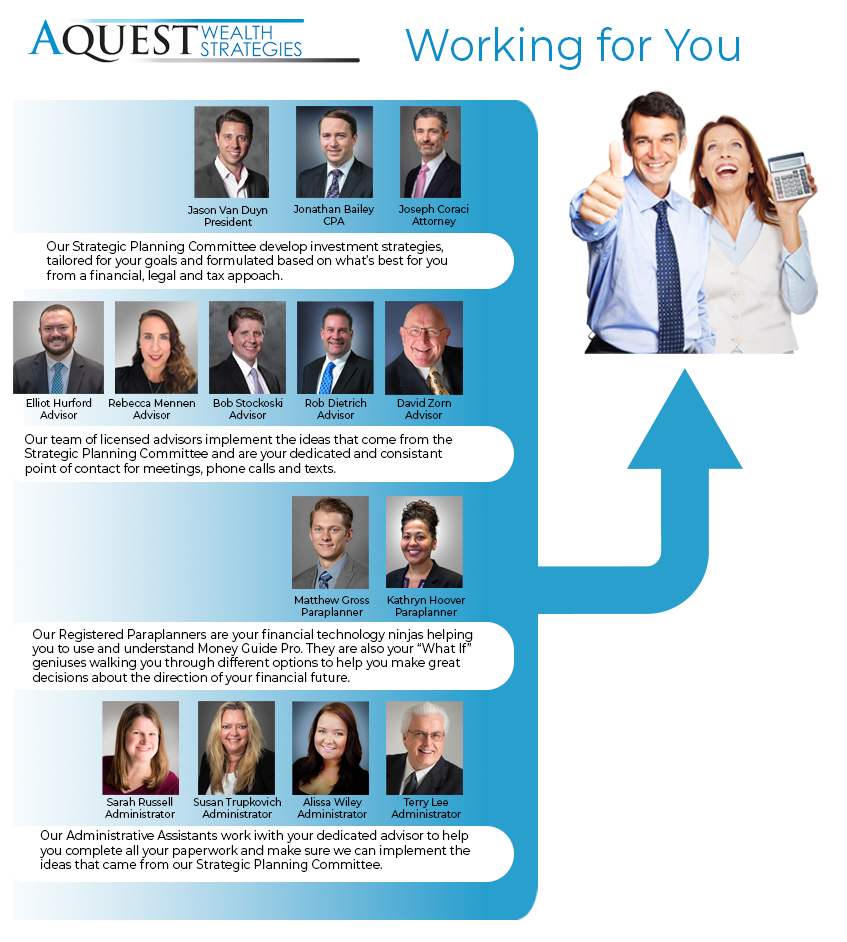 As independent financial advisors, we have access to the known universe of investment products. This open architecture enables the client to choose the compensation structure of their account. Clients are able to choose between a commission product or a fee-based model based on what they are most comfortable with. AQuest will always provide products, strategies and services that are in your best interest. Fee-based asset management is offered through LPL Financial.
Good financial advisors will always look to make the best decision for you, but here are some of the tricks used by other advisors to rack up additional fees or commissions
Choosing the right advisor is extremely important. According to Vanguard, the right advisor can add 3.75% of added value to a portfolio – and that's before taxes and other areas.
Fees & Expenses Can Affect Your Portfolio